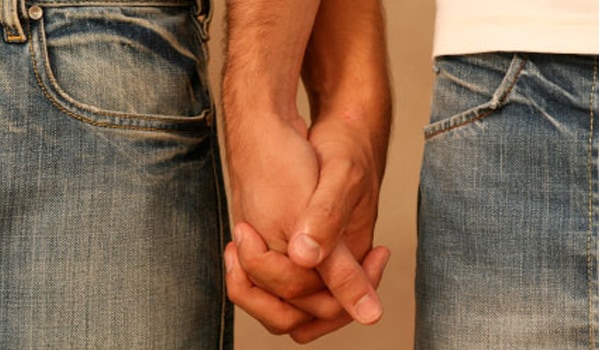 Last night as I was watching
24 oras
(nightly news show, GMA 7), I was shocked to see that being a homosexual person was being justified by the church here in the Philippines. One priest said that being gay, dressing in other gender's clothing, is not a sin but it will be when one commits intercourse with the same sex. How am I grieved by these news. One gay said also like this: "We should not be discriminated because this is the way God created us". Does God created a homosexual according to His own image? When we were born, we are male and female, even the birth certificate tells us that we are male and female, there's no bi or lesbian or gay or transgender! I hate Lady GaGa's new song entitled
Born This Way
. It perverts the truth about creation of man. It entices its listeners to continue on living their life and tells them that we are insecured about them. There's a line there saying:
No matter gay, straight or bi

lesbian, transgendered life

I'm on the right track, baby

I was born to survive

No matter black, white or beige

chola or orient made

I'm on the right track, baby

I was born to be brave




I'm beautiful in my way

'Cause God makes no mistakes

I'm on the right track, baby

I was born this way
Lady GaGa here clearly perverts the meaning of the creation. God does not make mistakes but people do! It is just a matter of choosing right from wrong, to become a homosexual or to continue living upright. Homosexuality is Satan's tool. He uses people to tell us that it is okay to sin and he makes us believe that it is the truth. If you want to see a full view of the lyrics just click
here
. Please exercise good judgement when reading the lyrics.
The Bible addressed to clear that many times. In the book of Genesis, He said that God created them man and woman and there was no homosexuals. If one persists to claim that he is a gay or she is a lesbian, then they omit the fact that they were male or female and then completely ignores the truth which is against the truth of God. God's wrath is upon the wicked. He showed us an example on how He is being grieved by these when He destroyed the cities of Sodom and Gomorrah. These cities were so pervert that they perform homosexuality, intercourse with animals, intercourse with the same sex. God burned them to the ground, none of their city was left and they were pulverized by the wrath of God. 1 Corinthians 6:8-10 says:
8Nay, ye do wrong, and defraud, and that your brethren.
9Know ye not that the unrighteous shall not inherit the kingdom of God? Be not deceived: neither fornicators, nor idolaters, nor adulterers, nor effeminate, nor abusers of themselves with mankind, 10Nor thieves, nor covetous, nor drunkards, nor revilers, nor extortioners, shall inherit the kingdom of God.
The New International Version says it more clearly:
8

Instead, you yourselves cheat and do wrong, and you do this to your brothers.

9

Do you not know that the wicked will not inherit the kingdom of God? Do not be deceived: Neither the sexually immoral nor idolaters nor adulterers nor male prostitutes nor homosexual offenders

10

nor thieves nor the greedy nor drunkards nor slanderers nor swindlers will inherit the kingdom of God.
What If You're Already A Homosexual?
There's a cure
if you're already one. Most cases of becoming gay comes from the lack of the father image. If you lack the affection and an example of a father, there's a Father that really cares for you. He is the one watching you all of your life, He just waits for you to turn your ears and eyes to Him. He is saying that if you confess your sins, He is faithful and just to forgive you (
1 John 1:9
). Repent so that you can have a new start with the Lord (
Acts 3:19
). If you believe that you are born a homosexual, there's still time, you can be born a man with a fresh start, be born again, not in the flesh, but in the spirit that is inclined to the will of God (
John 3:3-6
). Jesus wants you to be like Him. He said that we should follow His example. Exercise yourself on living the right way with your gender: if you're a man, be a real man, and if you're a woman, so be it. Read the word of God and pray everyday. It sure will help because if you do so, the Holy Spirit will give you the wisdom and the conviction to know what is wrong and what is right. Remember this:
With God, nothing is impossible.
In closing, I just want you to share this verse.
"For this reason a man will leave his father and mother and be united to his wife, and the two will become one flesh." - Ephesians 5:31
This is the only kind of marriage God allowed in the bible. Desire to have the perfect wife if you are a man and desire the perfect husband if you're a woman. With God's help, nothing is impossible.